UPDATE: It's been over 10 years since this post was first written, so the rugs that Macys sold back in the day are long gone, having been discontinued.
If you're looking for Andy Warhol rugs, eBay is a good source to find some excellent used ones. What's nice, of course, is that very few people who purchased Andy Warhol rugs actually used them as "rugs", so chances are you'll be able to find one in really good condition.
The Andy Warhol Foundation is still very much active on eBay. Visit their storefront on eBay to find original memorabilia and artwork by Andy Warhol that is completely authentic and where proceeds go to support the Andy Warhol Foundation, which was established in 1987 in accordance with Andy Warhol's will for the advancement of the visual arts.
Original post follows: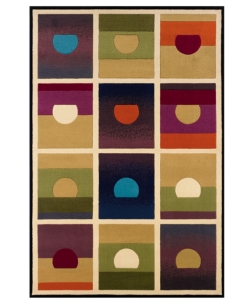 Are you looking to accessorize a hardwood floor? You could go for the same old cookie-cutter rug from somewhere like Ikea or Bed Bath and Beyond.
Or you could check out this amazing set of rugs from Macy's, and bring some beautiful artwork into your home. They are ground breaking designs directly influenced by actual artwork by Andy Warhol. A portion of proceeds from each of the designs goes to benefit the non-profit Andy Warhol Foundation.
The foundation was formed with funds from Warhols estate, and funds art edcation and special museum exhibitions for up and coming artists.
The design you see to the left is my personal favorite: Sphinx by Oriental Weavers "Setting Suns" Andy Warhol Area Rug, 4′ x 6′
. It comes in multiple sizes you can choose from.
You can also choose a number of other beautiful styles.