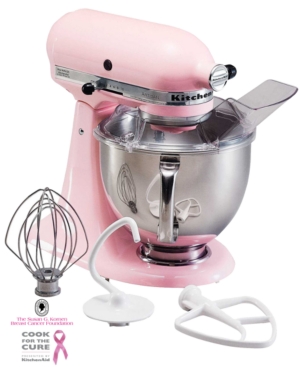 UPDATE: For reasons I'm still not sure of, KitchenAid appears to have discontinued its very long-standing relationship with Susan G. Komen. In 2018 its long-time Cook for the Cure microsite was taken down, and gradually all their pink stand mixers where a portion of proceeds went to cancer charities went out of stock, one by one. Ironically, one of the last press releases on the subject touted how they crossed over the $10 million in funds raised.
If you're shopping for a pink color Kitchenaid, your best bet will be to go to eBay. The good news is that these things are pretty indestructible, so even a used one will likely last you a very long time (be sure to make sure you're buying from a reputable seller, of course). You may also be able to find one on Amazon as well. Of course, none of the proceeds will go to cancer, so consider a separate donation to Susan G. Komen. 
Original post follows:
This is personally my favorite pink product for breast cancer research support. It's a Pink KitchenAid 5 Quart Mixer
, part of KitchenAid's "Cook for the Cure" campaign.
Available at Macy's
or directly from KitchenAid
, it is sold for the same price as all of their other mixers, but the best thing about this version–a full $50 of every purchase will go towards the Susan G. Komen Breast Cancer Foundation.
Started in 1982 as a promise from Nancy G. Brinker to her sister, Susan Komen, this is a foundation headquartered in Dallas which today, provides the largest source of nonprofit funds dedicated to breast cancer research in the world. It has raised over $1 billion in funds since it was founded.
If you do any cooking or baking, a KitchenAid mixer is a must-have. It's one of those things I have no idea what I did without. Whether you're mixing bread dough, making cookies, baking pies or cakes, making frosting, or whipping cream, creaming butter, or whatever, you'll be amazed at how much time you save and how much better your recipes come out. In fact, as I cook I keep finding new uses for my KitchenAid mixer that I hadn't thought of before.