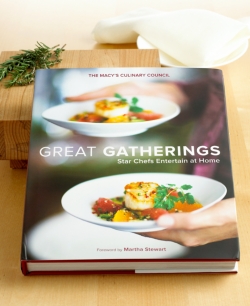 Great Gatherings: Star Chefs Entertain at Home Cookbook
is a special cookbook exclusively available at Macy's which puts together over 100 amazing recipes from the top chefs in Macy's "Culinary Council".
There are 16 occasions highlighted, with six amazing recipes for each. The recipes are what you'd expect from top chefs as far as their flavor and gourmet style, but they are simple enough for anyone to make.
The chefs also give great gourmet advice, from fiestas, to a fantastic brunches, to great drinks, to amazing desserts.
The photography is beautiful, and there's even a foreword by Martha Stewart.
For each copy sold, Macy's is donated $1 to Share Our Strength, dedicated to ending childhood hunger in America.