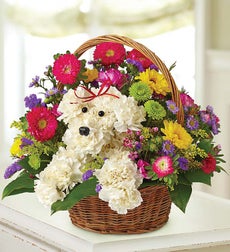 Leave it to the folks at 1-800-Flowers to come up with something like this. First they came up with a flower arrangement shaped like a birthday cake
. Then came the one shaped like a margarita
. Their latest invention is a flower arrangement shaped like a dog
. That's right, a dog!
This is actually one of the cuter arrangements you'll see. The dog looks like it's made up of white carnations, with plastic eyes and a nose and even a collar. It's surrounded by beautiful flowers in a reusable basket.
And if you use promotion code 4PETS from now until May 31, 2011, $5 of your purchase price will go to PetSmart Charities to help homeless pets.