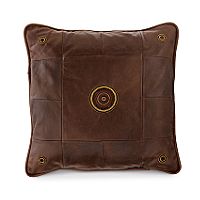 There are throw pillows, and there are throw pillows.
If you need a beautiful home accessory, consider these African Embellished Leather Pillows. They're not mass-produced in some factory somewhere–these are high quality leather goods hand-stiched by women working in a Maasai village near the Tanzanian border, in the shadow of Kenya's Mt. Kilimanjaro, and finished by women of the Kikuyu tribe near Nairobi.
The product is available from National Geographic Society, which also supports the craft enterprise. Income directly benefits the women in these African nations, who use the proceeds to feed their families and send their children to school. It's a great gift for someone who wishes to be fashionable, and know that they are also helping to support hard workers in developing countries.