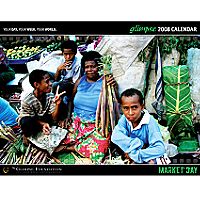 In Spring 2007, the National Geographic Society had a photo contest among some of its most gifted travel photographers. They were asked to photograph street markets in Fiji, Japan, Togo, Italy, Vietnam, Mexico, Senegal, Spain, the Dominican Republic, South Korea, and Myanmar.
The result is the Glimpse 2008 Marketplace Calendar
. It is a colorful and fascinating look into different cultures from the National Geographic Society, and a way to travel the world right from your office desk.
All proceeds go to the Glimpse Foundation, a nonprofit organization which sponsors cultural understanding and exchange programs for young adults.