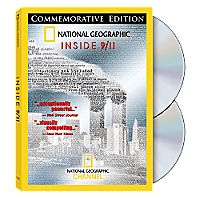 National Geographic has produced this Commemorative Edition of the Inside 9/11 DVD Set.  Produced in 2006, it looks back at what led up to September 11, from the terrorists' beginnings, to the immediate aftermath of September 11. The documentary has been lauded by the Wall Street Journal and the New York Times as a powerful and visually stunning recounting of the awful events.
In this special "commemorative edition" are also two additional full-length programs. One, called "Through These Eyes" is a recounting of how National Geographic photographer Steve McCurry documented the aftermath of September 11 in the streets of New York. "Witness 9/11" is also a documentary collaboration between six filmmakers taking extraordinary footage of the events.
As horrible as that day's events were, we owe it to the victims, to our country, and to ourselves never to forget. Never forget how angry you were at the sheer evil and despicable inhumanity of those evildoers who planned and carried out this mass murder. Never forget how unified we were as a country in the days afterwards as we healed as one. Never forget the heroism of our brave men and women in uniform. Never forget the promise you made to yourself in the days following 9/11 to volunteer, to help others, to give blood, and to fight back evil with good.