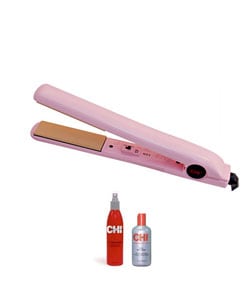 This Farouk hair straightening package

has gotten rave reviews from users of Overstock.Com. Inventory is running low, so get it while you can!
The package includes a limited edition CHI flat iron, as well as a bottle of CHI iron guard to protect your hair as you're straightening it, and a bottle of CHI Infusion Hair Serum to provide some shine to your straight hair.
A percentage of all sales of this product go towards researching cures for breast cancer.
Note: the title of this post reads "pink hair straightener", but just to be clear, this will work great on all colors of hair, from black to brown to blond to pink 😉