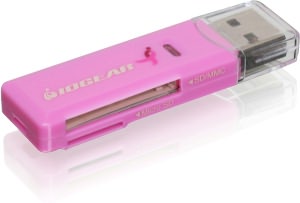 Everyone needs a USB card reader, whether you need to move files from one computer to another or view your digital photos on someone's computer. Barnes and Noble is selling a high quality IOGEAR card reader that plugs into any USB 1.1 or USB 2.0 port. It reads virtually all kinds of SD memory cards. including SD cards (the bigger ones), microSD cards (the little ones), MMC (older ones) and SDXC cards. It has a stylish pink design with the Susan G. Komen ribbon, comes with a removable cap to protect the USB plug, and is completely powered by the USB bus (no external power needed).
Barnes and Noble has a deal right now where you can save 10% on this SD card reader
. In addition, For every pink card reader sold between September 1, 2011 and August 31, 2012, IOGEAR is donating $1 to Susan G. Komen for the Cure with a guaranteed minimum donation of $25,000.
Susan G. Komen for the Cure® is the world's largest grassroots network of breast cancer survivors and activists dedicated to taking global action against breast cancer through research, community health programs and advocacy.