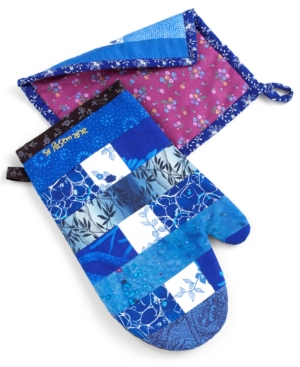 This Heart of Haiti Pot Holder and Oven Mitt in Blue is one of several we'll be featuring this month from Macy's Heart of Haiti Collection.
This successful program was among the first to provide sustainable work for citizens of Haiti after the earthquake that wiped out huge amounts of raw materials and left their already-poor country in insecure and unsanity conditions.
Proceeds from the initiative have helped artisans repair their homes, send their kids to school, and clothe their families. All while giving them the dignity and pride of creating these one-of-a-kind, high quality products.
The oven mitt and pot holder come signed by the artisan who created it. Because they're hand-made, no two are alike. They are machine washable and made out of a sturdy cotton/polyester blend.