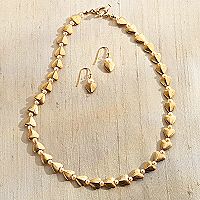 Imagine you're living two thousand years ago and travelling the Silk Road from Afghanistan to China. You come across a merchant selling the most exquisite and beautiful jewels you've ever seen, made of gold, carnelian, turquoise, and other materials.
The jewelry you see on this page is literally what you would have seen. And it carries a story much more fascinating than the jewelry you pick up at Walmart or Target.
In 1979, archaeologists in Afghanistian had a major excavation at Tillya-tepe (also known as the "Golden Mound") near Shibargan, Afghanistan. They discovered more than 20,000 gold pieces from the Bactria period. The 18-inch Afghan Heart Necklace with Pearl
 necklace (and separate earrings) you see above is based on one of the designs, made of gold-finished pewter hearts with 4mm freshwater pearls.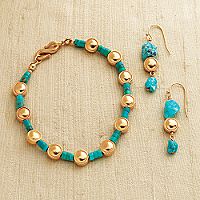 Similarly, the Bactrian Rimmed Spangle Bracelet with Turquoise Discs
 you see to the right was based on a design discovered at Tillya-Tepe.
Proceeds from sales of this jewelry benefit the Afghan Museum, as well as the National Geographic Society's ongoing cultural work.