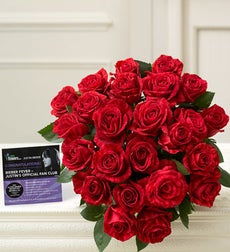 At every Justin Bieber concert, Justin gives a bouquet of flowers to one screaming, fainting, hyperventilating, and/or in-shock fan.  If the Justin fan in your life isn't able to make it to one of his concerts, and/or isn't one of the lucky ones to be chosen for flowers, never fear. You can re-create the feeling when you buy these Justin Bieber Flowers for the lucky young lady in your life.
The flowers are a beautiful variety of red roses with deep red streaks and swirls. They come with a CD of Justin Bieber's album, and a scarf with a replica autograph.
A portion of the proceeds will be donated to Pencils of Promise, a nonprofit organization that is partnering to re-build schools in Haiti.