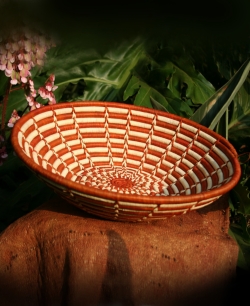 The Macy's Rwanda Path to Peace Collection is a great example of how a big company can make a difference.
In 1994, the African nation of Rwanda was torn apart by a brutal genocide. In about 100 days, close to one million Rwandan citizens were murdered. Left behind was a population of 70% women, widows who were suddenly faced with the frightening and daunting task of supporting their families, rebuilding their communities, and taking back their lives. The women, who had never earned money in their lives, turned back to their heritage of weaving.
In 2002, the Executive Director of the United Nations Development Fund for Women (UNIFEM) visited the country and was struck by how beautiful they were. She reached out to American businesswoman Willa Shalit, who in turn reached out to partners in the United States. By 2005, Macy's had begun to sell these baskets online and at their flagship store in New York.
Three years later, the program is still going on strong. Thousands of Rwandan weavers take part of this effort each year. By purchasing these baskets, you not only can have some authentic, hand-crafted and hand-woven African crafts in your home–you can help provide thousands of rural women in Rwanda with sustainable income to rebuild their lives and their country. They make thoughtful and meaningful gifts, especially once the person you're giving it to hears the incredible story behind them.
The "Thousand Hills" Bowl
pictured above is my personal favorite.
Here are some other amazing creations: