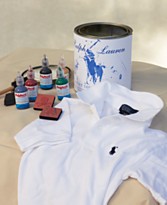 Here's a great idea for kids from Ralph Lauren and Macys that helps a really great cause. But hurry-this item will almost certainly not be available for munch longer.
Visit Macys.Com
and type into the Search Box the words "Paint Your Own Polo".
If it's still in stock, you'll see a product that Macys sold for Christmas. It's an authentic white polo shirt (complete with horsie) for boys or girls with a difference. It comes in a Ralph Lauren paint can with the shirt, six 1 oz. tubes of fabric paint (medium gold, silver, evergreen, deep blue, black and country red), six 1" sponge brushes, one sponge tool, a griffon stamp, a skull-and-crossbones stamp, and complete instructions
It's a guaranteed fun gift for any child, as he or she gets to be creative and design his or her own polo shirt. The cotton shirt, once designed, is completely machine washable.
100 percent of net proceeds from this sale will be donated to the Pink Pony Fund for Memorial Sloan-Kettering Cancer Center's Pediatric Art Therapy Program.