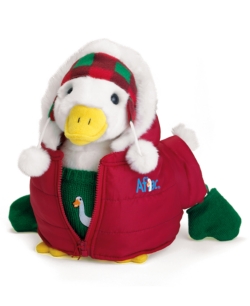 We all know him and love him, the Aflac duck. This past holiday season, Macy's had this little gem for sale.
It's the Aflac Large Holiday Duck, 10″, a 10 inch
plush version of your favorite duck that pays bills, orders Chinese food, and confuses Yogi Berra's barber. It's an adorable cute stuffed animal that is dressed in his own puffy jacket, a knit sweater, and of course, who quacks the word "Aflac!"
And what's cool about it is that 100% of the proceeds get donated from Macys and Aflac to support cancer research and treatment at children's hospitals around the country.
I've seen Aflac ducks from past years, but never one as cute as this one. And it's very rare to see these still in stock after Christmas, so pounce on him while you can!