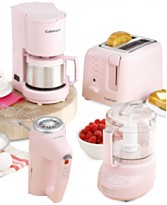 This coming October for Breast Cancer Awareness Month, I'll be highlighting some of the coolest pink "for the cure" products from various online retailers. I've already started the search for the best products. But for those who can't wait, here's a sneak peek.
Right now, Macy's has a sale on some of Cuisinart's basic appliances. If you need a good, sturdy, and reliable mixer, food processor, toaster, or coffee maker (or all four of them!), you can save up to $50 if you buy them now.
And even with the sale price, a full 3% of all proceeds from sales of these products will go to the Breast Cancer Research Foundation.  
Cuisinart Pink Collection Mini Prep Plus Food Processor
Cuisinart Pink Collection PowerSelect 7-Speed Hand Blender
Cuisinart Pink Collection 2-Slice Compact Toaster
Cuisinart Pink Collection 4-Cup Coffee Maker