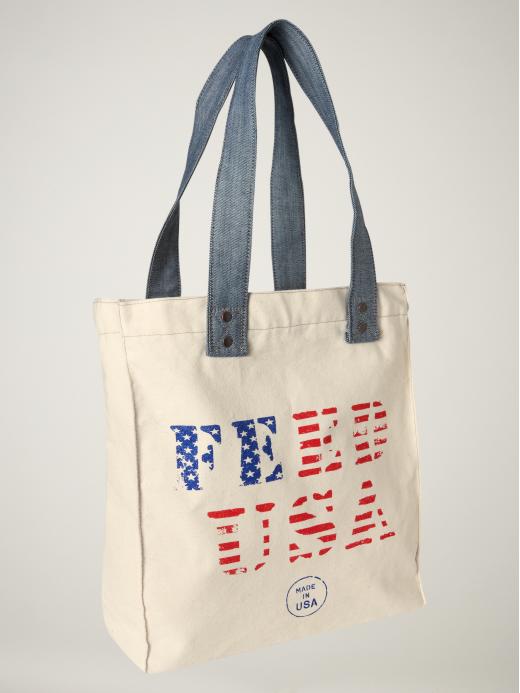 NEW for 2011! While the original FEED Bag is no longer available from Amazon.com, you can get a much, much more stylish and comfortable Blue Denim Bucket Tote
or White Canvas Tote
from the Gap.

Last year on Thanksgiving we highlighted the FEED Bag, a brilliant product introduced last year intended to fight two desperate needs at once: world hunger and the environment.
So this year, once again this will be the product we'll be showcasing as Thanksgiving approaches. The World Food Programme Feed Bag
.
Reusable shopping bags are everywhere these days. And they're great. Every time you use a reusable shopping bag, you eliminate one plastic bag that goes into a landfill or the ocean or into the ecosystem (there was an astounding report earlier this year that reported that the world's oceans contain many times more plastic than plankton).
But unlike most companies selling charity shopping bags, where all proceeds goes as profit to the company selling it, this bag has an added bonus. A percentage of proceeds goes directly to the World Food Programme, an international relief agency supported both by individual contributions and contributions by world governments. Last year it distributed 4 million metric tons of food to 87.8 million people in 78 countries and provided relief in many of the most critical parts of the globe.
Perhaps more important than the actual money that's donated is what you'll be doing. Aside from helping the environment, it'll be a way for you to help build awareness among your friends and fellow shoppers of this important cause. When a friend sees you with this bag in the supermarket with its distinctive "FEED" logo, it'll start a conversation. World hunger is a horrific problem that we in the United States take far too much for granted–just look at all the food that's routinely thrown out in garbage cans and street corners. Parents have gotten out of the habit of reminding their kids to "think of all the starving people in Africa". Yet there are more now than ever. By using this bag in public, you bring awareness to the cause.
This Thanksgiving, as you enjoy your Thanksgiving feast and give thanks to God for your health, your prosperity, and the love of your family, let's be sure to remember those in need. Here are some organizations you can donate to directly: